Techtonics
a multidimensional sound pack from Sensel

Dripping With Character
Sampled from Analog and Modular Synths, we captured unique textures and timbres and turned them into instruments. Dark and disruptive, dystopian and hard to pin down, these sounds will stand out in your mix and inspire new ideas.

MPE Everywhere
MIDI Polyphonic Expression brings a natural interaction to electronic sounds. Everything, even drums use MPE in clever and delicious ways.

Plenty of Percussion
With six drum racks of unique, pure electronic drums and percussion, you'll be sure to find a groove. And because the kick is the foundation of so much techno, you'll be pleased there's one kit of pure, original kicks.

Meticulously Sampled
Balancing sound and size, each synth uses multiple samples for each octave. Several synths use velocity to incorporate the unique filters of the sources. Every AIF file used has the loop points and note ranges baked in, so you can quickly build other samplers from the source files.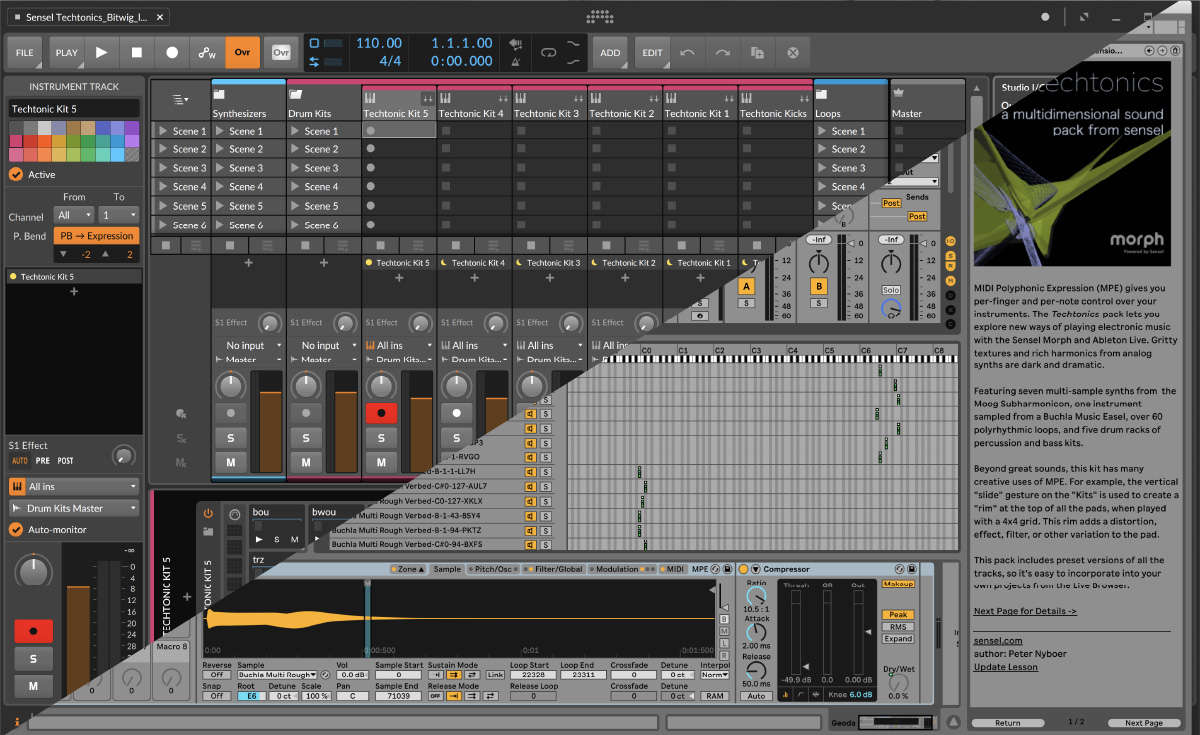 Created for Live 11 and Bitwig Studio
Now that Ableton Live is MPE compatible, we've prepared all of this lovely sound to work in both Live 11 and Bitwig. Besides the amazing sounds, these presets are great for tearing apart and understanding how to use MPE in both Bitwig and Live 11. With sources from some of the most irascible synths out there - including Moog Subharmonicon, Buchla Music Easel, and Meeblip Geode - we dove deep to select some incredible sounds for your creative work.
Available from the Sensel Shop
For $49, you'll get the Live and Bitwig versions of these instruments and sounds. The .AIF files are complete with loop points saved, and named for easy assignment to other sampler software.
Geoda:
Nuna:
Valbarra:
Kenora:
Kaapval:
Magma: